Major benefits of keeping only ONE email list
Although MailExpress allows you to create unlimited numbers of email lists in your account, there are good reasons why you should avoid using multiple contact lists. Using a single email list and segmenting that list is a better approach most of the time.
When a recipient unsubscribes, the recipient is unsubscribed at the list level. Therefore, keeping a single list can avoid sending campaigns to unsubscribed users if they belong to multiple lists.
Having a single list can help you better track your campaigns' historical data and performances, the data may not be transferable or sharable if you use multiple lists.
You can only select a single list of recipients each time when creating a campaign email. Keeping contacts in multiple lists means if you want to send a campaign email to all subscribers you will have to create and send multiple email campaigns.
Segmentation rules are based on each single list, not across lists. Organize your contacts with different custom fields in one list rather than maintain multiple lists in your account.
If you absolutely need to maintain multiple lists, you can create them. But please remember, lists are independent of one another, so contact and related data will be kept separate on a per-list basis.
Need a customized lists and custom fields consultant? Contact us.
Manage Contacts
Once the list is created, you can examine and manage your contacts within it by clicking on the list name.

To filter your contacts by their subscription status, click on the drop-down arrow next to "Status" to see the drop-down menu and select the filtering status.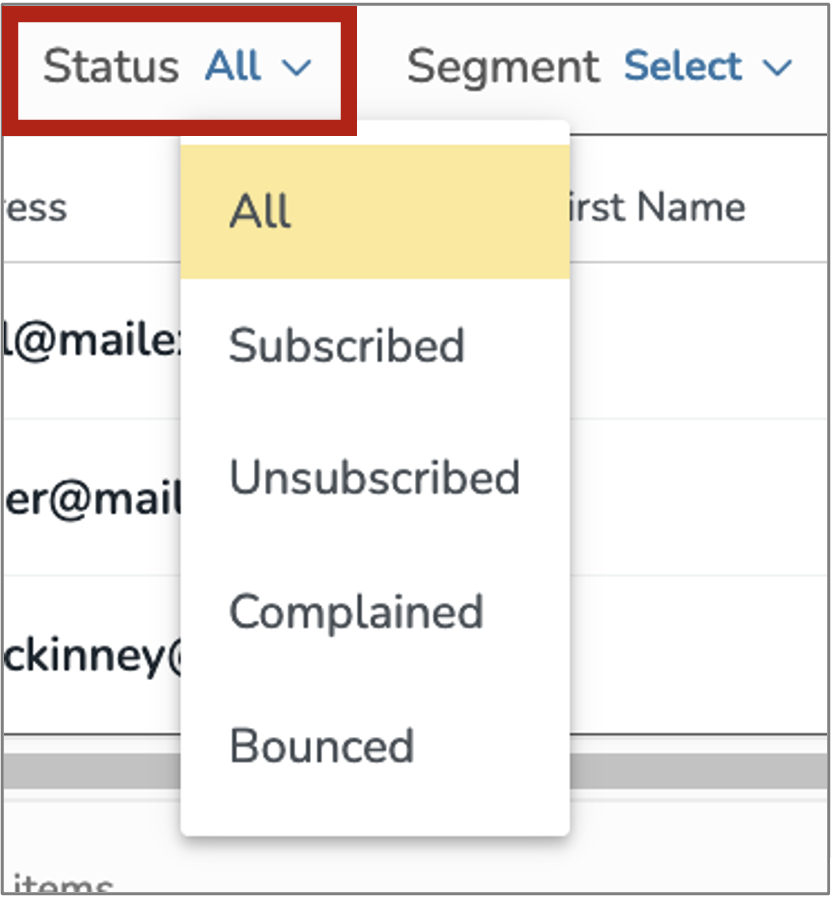 To filter your contacts by segment, click on the drop-down arrow next to "Segment" to see the drop-down menu and select your segment.
After you enter the list, click on the email address in the list to edit information of this contact.

Click on the "Save" button to save the changes you make to a contact. Click on the
"Delete" button to delete a contact.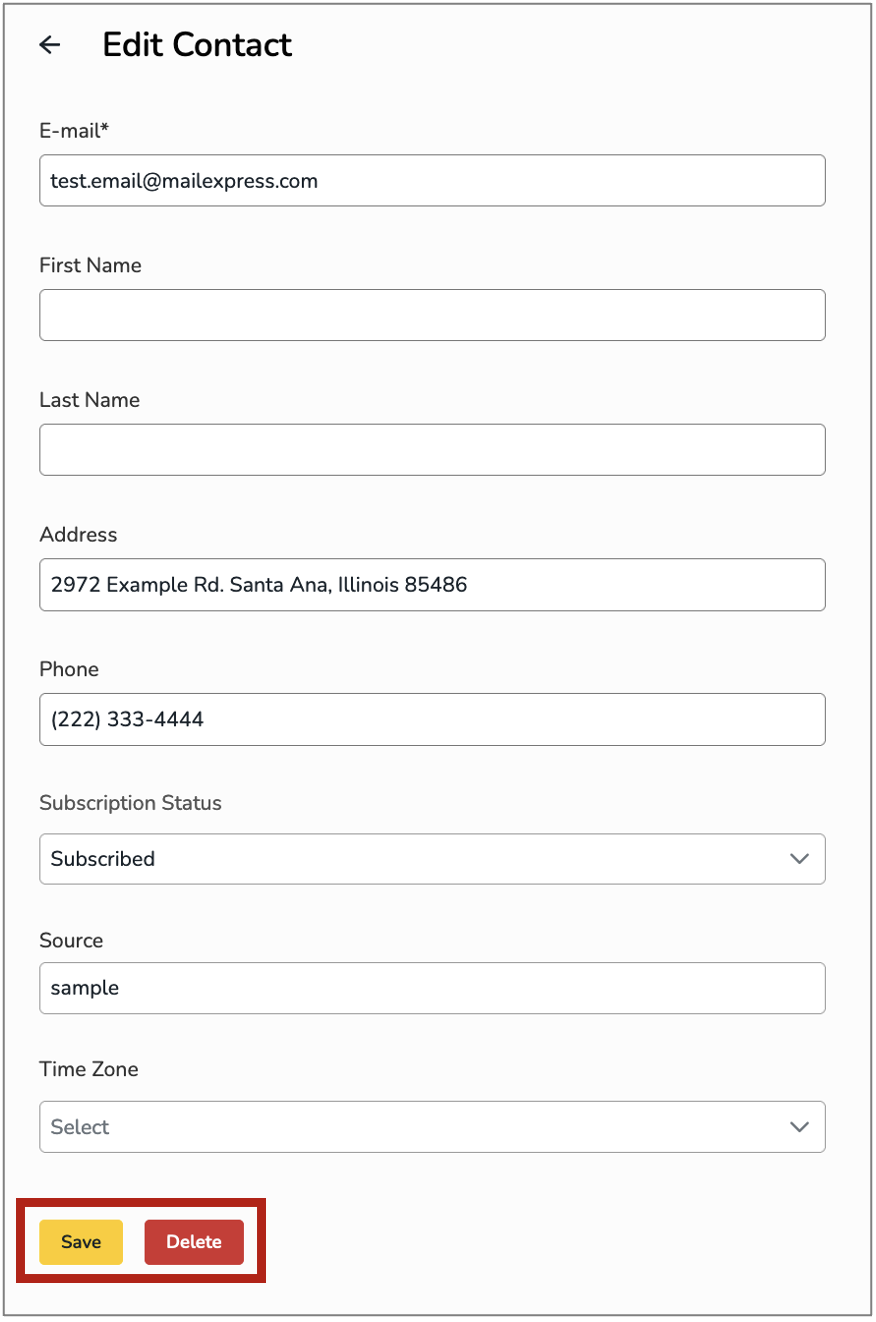 You can also delete or unsubscribe multiple contacts all at once. Check the boxes in front of the email addresses you want to delete or unsubscribe. Then click on "Delete" or "Unsubscribe" above the email list to perform the "Delete" or "Unsubscribe" action.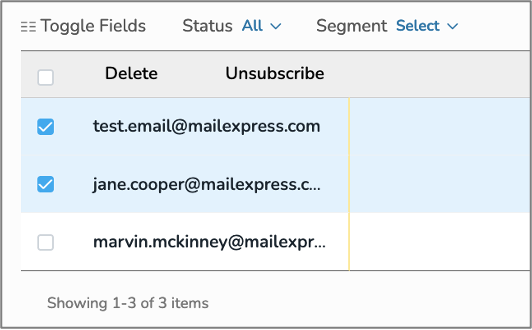 MailExpress gives you the option to rearrange the order of or hide the columns. Click on "Toggle Fields"

Then hover your mouse over the three dots. You will see the mouse icon becomes a hand icon. Hold your mouse and drag the field up or down. Once you finish rearranging, click "OK"
If you wish to hide a field, move your mouse to the right and click on the eye-shaped icon. Click once to hide, click again to unhide. You can only hide the custom fields, system default fields won't be able to hide.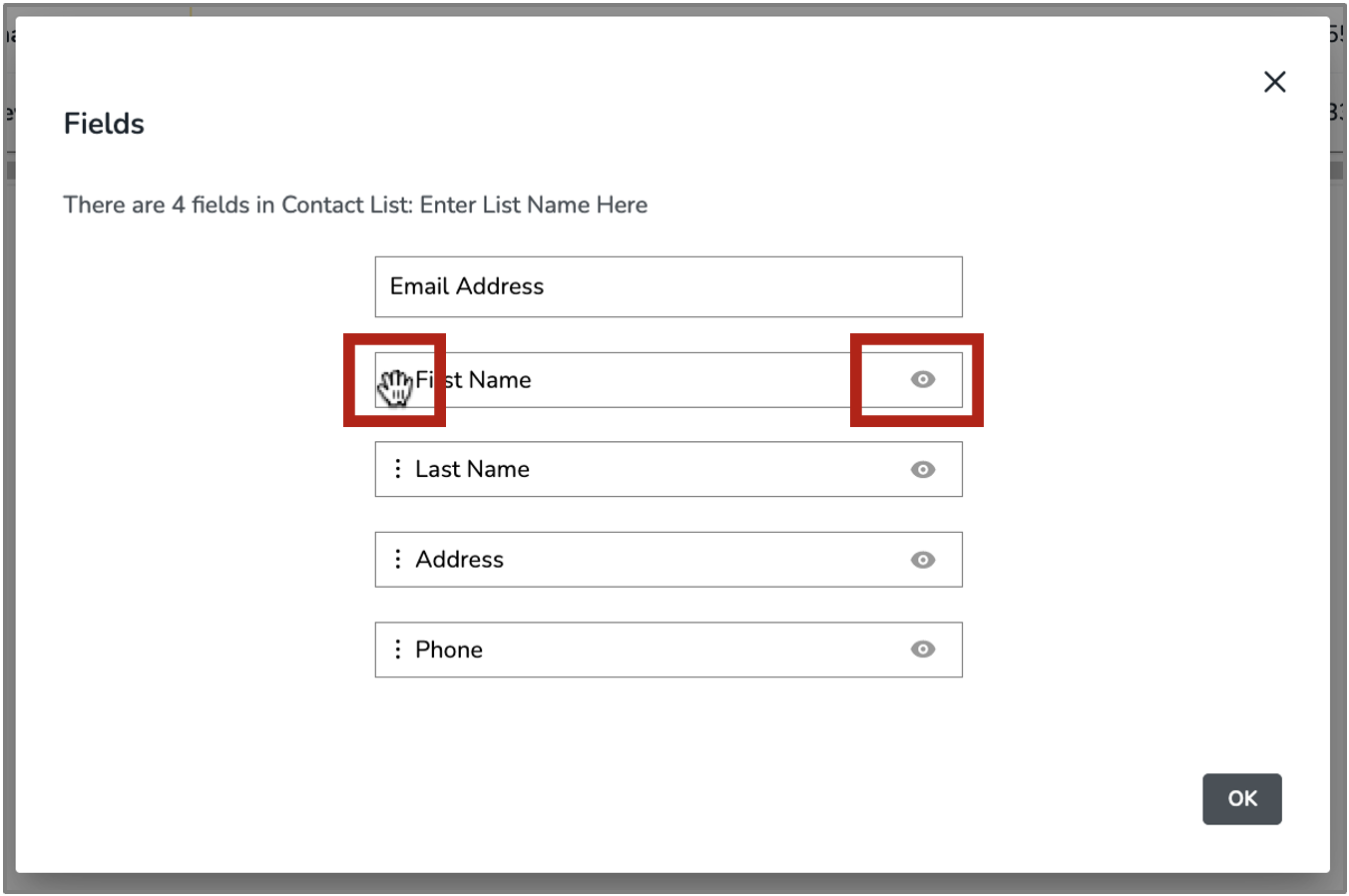 You can add additional contacts to an existing list by clicking on the "Add Contacts" button at the upper-right-hand corner within the list.

You can also exit to the main view of the List interface and click on the add contacts icon next to the list name.

Manage List
To manage your list, click on the three-dot icon in the upper-right hand corner and you will see a drop-down list that contains the following options: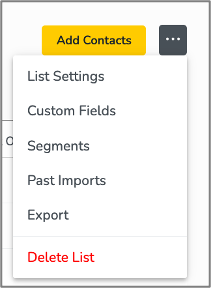 List Settings:
Manage basic list info such as edit list name, view list ID, and add homepage URL.
Custom Fields:
View, arrange, and add custom fields in your list.
Segments:
View, add, edit, delete, or duplicate your segments.
Past Imports:
View all the past list import history
Export:
Download all the contact information as a csv file
Delete List:
Delete the current list
To manage your segments, click on "Segment" in the drop-down menu to enter segment view. Here you can see a list of the segments that you create.

To create a new segment, click on the "Create Segment" button.
To manage your segment, click on the segment that you want to edit and click on the three dots under the "Action" column. You will see that you have the option to edit, duplicate or delete the segment.
Congratulations, now you have learned how to manage your lists and contacts.